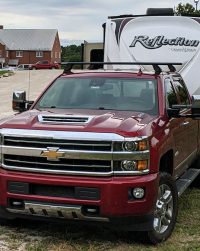 I picked up this 2018 Silverado High Country Duramax 2500 from a dealer in New Smyrna Beach, FL. The truck had Chevrolet badges all over it, as well as the name Chevrolet above every fender. The demo truck at Daytona International Speedway was most likely used to tow the trolley for the speedway tours, according to what the dealer was saying.
Anyway, no one wanted GIM. He sat in the back and they pretty much hid him out of sight under the trees, probably just going to send him off to auction till I spotted him. They ended up accepting my offer after going back 4 weeks in a row to let them know that I wanted to take GIM off their hands. Good thing they finally came around to what I was putting down!
Gim has been a great truck. I couldn't ask for much more.