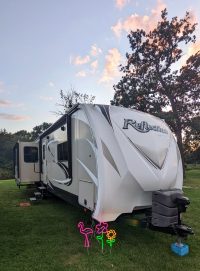 A 2017 Grand Design Reflection 315RLTS, Lia has had a few modifications done to her to suit the needs of what I want to do, and also her interior has been lightened up with some paint and a few other things, added some solar and some batteries, and changed out her tires with Goodyear Endurance.
I got Lia in late 2018 from a used car dealer that got her at auction. She's been a few places locally, such as the Keys and Orlando, and I've also had her up in Tennessee and Wisconsin, and everything in between. She's been trusty and temperamental at times, but hey, she's a travel trailer, and well, that's what's expected. Just maintain and keep rolling.
I'm looking forward to experiencing the places she's going to keep us comfortable.
2017 Grand Design Reflection 315RLTS